Adopt Lou Lou – Available In Hazel Park, MI – Adopted
Lou Lou (is adopted!) is believed to be a Boston Terrier/Pitbull mix. She is approximately 3-5 years old and weights 40 pounds. She's very friendly and loves to go for walks.
She was found with a collar and tags but apparently her owner didn't want her anymore. Unfortunately for Lou Lou the shelter she is at is full so her time may be limited. Please share Lou Lou; she will make a great companion for someone in southeast Michigan.
From the Hazel Park Animal Control & Shelter:
Lou Lou was found by a resident. Unlike most of our pickups Lou Lou was wearing a name tag, with a phone number and address. The resident tried to contact Lou Lou's owner. Per the finder Lou Lou's owner had no intention of picking up their dog. Once she came into the shelter we attempted by phone and mail to get a hold of her owner, but they never picked her up.
Lou Lou is approximately 3-5 years old. She has a herniated belly button that will be removed when she is spayed. She is brown and white in color with short coarse fur.
We believe she is a boston terrier/ pit bull mix. Her face is very reminiscent of a boston terrier, but her body is the size and stature of a staffy. She weighs about 40lbs.
She is very friendly towards people and loves to go for walks. She does very well on the leash. And will come back to you when she is called. We know that the house she came from has other dogs, neighbors have come by to state that their dogs would also play with Lou Lou. However, at the shelter, she tends to rule to roost, and is an alpha female.
Lou Lou has not been around cats.
If you are an individual or family interested in adopting Loo Loo, please e-mail us at hpshelter@gmail.com.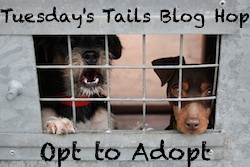 Tuesday's Tails Blog Hop is hosted by Dogs N Pawz and Talking Dogs. This hop features adoptable animals from shelters; please join us or share to help them find forever homes. You can also check out the new Tuesday's Tails facebook page.