Celebrate Pitbull Week
If you didn't know by now I'm a big fan of all dogs, but Pitbulls hold an extra special spot in my heart. Let's celebrate these misunderstood, yet awesome dogs with some fun and inspiring articles that will help dispel some of those nasty myths. If you haven't checked it out yet head over to the HuffPost; they're celebrating Pitbull week with lots of great articles and posts.
Watch NOW! RT @HuffPostLive: Happy #PitBullWeek! Debunking myths about the breed: http://t.co/LKTOjJd9ZQ http://t.co/XLgB8XWZrs

— HuffPost Green (@HuffPostGreen) July 28, 2014
HuffPost Green is launching a week-long, community-driven effort to bust the myths and raise awareness about pit bulls, a maligned "breed" that often bears the brunt of dated, discriminatory legislation that can make it near impossible for these dogs to find a forever home. You can follow along with HuffPost Pit Bull Week here.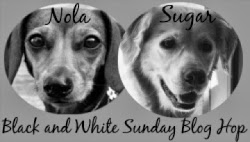 Thank you to our Black and White Sunday Hosts: Sugar at Golden Woofs and Dachshund Nola