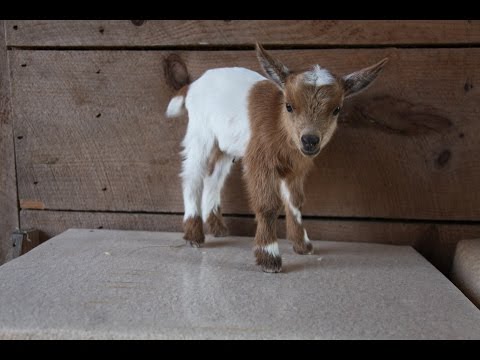 Say what you will about viral videos of cats and dogs — goats are truly having a moment on the internet. We can't get enough of them! Our daydreams are all about owning mini goat farms in the bucolic countryside. Wouldn't that be the greatest life? If you share our dream, but know it will probably never become a reality, we're here to help you get your goat fix. Watch these precious baby goats doing what they do best: jumping, climbing, dancing and wearing sweaters.
Arthur the Goat Learns a Trick
Yay, Arthur! After several attempts, this 4-day-old fella leaps onto some bales of pine shavings. The best part of this precious 40-second video comes at the very end—at 0:39—when Arthur does a triumphant little jumping dancethat pretty much sums up how it feels to finally accomplish your hopes and dreams.
Violet Successfully Climbs a Rock
What did you do on your first day of life? Well, on day one of her life, Violet climbed up a rock and climbed down it. You go, Violet.
Baby Goat Catches a Nice Breeze
Just look at those ears flapping in the wind! And that shake at the end. We can't even.