Dog Walking Week – Mud, Snakes, & the Hippy
To spice things up for #DogWalkingWeek Laika and I decided to try out some new trails. Throughout the week we encountered many snakes, burs, bait piles, mud, and a persistent hippy that thought he could make Laika befriend his little Puggle.

My Dream Lot
Right down the road from us there's a nice big plot of land for sale so we decided to check it out. Luckily hunting season hasn't began so I felt confident scouting around with Laika. We did encounter plenty of bait piles, mostly carrots, that were set up right under tree forts – hunters are getting prepared. I have no idea what Laika was thinking – why were all these glorious piles of carrots on the ground?
Getting covered in burs wasn't part of the original plan – but neither was not finding an easily accessible trail. Eventually we found a dirt bike path that's been well maintained and things got much easier. This lot is beautiful. It has rolling hills, valleys, and a nice creek running through it. My favorite part is the dense forest – I'm sure it's nothing in comparison to the Redwood National Forest but it feels so grand and serene – and it's right down the road.
We couldn't cover the whole area in a day so we went back a couple more times throughout the week – always discovering new trails and interesting things to see and in Laika's case sniff  including 4 Garter snakes (one of which was a cute little baby).
Being a big fan of reptiles I love finding Garter snakes – they do produce a mild venom but they're generally harmless. Laika didn't seem very impressed when I'd pick them up and start explaining to her their different anti predatory displays so we moved on.
In my imaginary world I'd like to think I could buy this plot of land and build my own cabin. Sitting on the front porch with a nice rocking chair listening to the sounds of the forest. Not going to happen any time soon but it's sure nice to dream isn't it?
Edsel Ford Estate
One of the other interesting places we checked out was the previous Edsel Ford retreat known as Haven Hill in the Highland Recreation Area. The carriage house, pool, and sheep barn remain but unfortunately the actual estate was destroyed by fire in 1999.
We're going back to this park this weekend – they've got so many trails we still have yet to walk. It's one of the only parks in our area that allows dogs on the wooded trails so it's a major bonus. You can only walk on the same pavement so many times before it gets a bit mundane.
The Hippy
On the way back from the Haven Hill estate we encountered a man with his 5 children and their Puggle. I was a bit nervous as soon as I saw them approaching because Laika seems to have a severe dislike of small dogs (or horses) – though we are working on it. I call him a hippy because he had long hair and he used the words chill, whoa, and right on quite liberally.
As they're coming closer it's obvious that Laika's getting reactive; I'm trying to keep her in her comfort zone by backing up and going the other way to redirect her attention back to me. The last thing I want is for my dog to become over stimulated to the point of losing control.
He's walking right up to us, the whole horde of them – even though I'm politely telling him he shouldn't approach with his dog. Laika loves children so I wasn't nervous as they quickly approached her and began petting her. I was keeping my eye on dad and the Puggle.
He's slowly catching up to his kids that ran ahead and I'm saying "she doesn't like small dogs, if you wouldn't mind staying on the other side of the trail." To this he laughs and says "nonsense, she will like my dog, he's chill."
Well the meeting didn't go well – as soon as the Puggle got within a foot of Laika she growled and they backed off. He said "peace" and headed on his merry way.
I just need to point out that when you encounter a stranger and their dog and the person says something along the lines of "she's not friendly" or "doesn't like dogs" you should probably trust their judgment. After all, it is their dog. They're probably more familiar with his behavior than you.
Mundane No More
Dog Walking Week was a lot of fun – we got out experienced some new places. Our goal for the week was to get out and try a new trail everyday and we succeeded. Exploring new grounds is a great way to keep your walking routine from becoming dull.
Laika was going to bed earlier as well – all the extra stimulation of new sights, smells, snake education, the hippy & his Puggle, and new trails really wore her out.
It's so easy to fall into a routine – ours is walking the neighborhood every morning and night. I certainly don't dread it, but it does become mundane. Just simply switching up the route or area keeps it interesting. It has a way of making the world seem so much larger and more intriguing for dog and owner alike.
Not only did we get some extra miles in this week – we also gained some new enthusiasm for seeking out adventure (and also learned a little bit about snakes).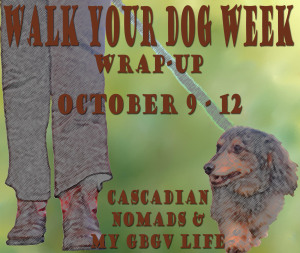 The #DogWalkingWeek Wrap Up Blog Hop is hosted by Cascadian Nomads and MyGBGVLife. We're wrapping up by sharing our experiences from the week. Laika and I had a lot of fun seeking out new trails. We logged more miles than usual and found some new places we'd like to revisit. Be sure to check out the other blogs to see what adventures they encountered during #DogWalkingWeek.