The mercury is falling and winter is almost here (no, we can't quite believe it either), which means it's the perfect time to think about how you can keep your pet warm, safe and happy as the temperature drops. Check out our top tips for dogs, cats and rabbits.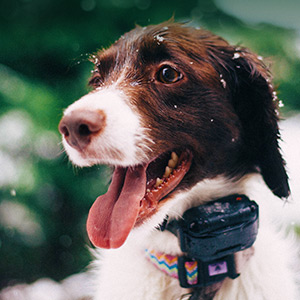 Dogs
Small, slender, elderly or light-coated dogs might benefit from a coat or jumper when you go for walkies. Make sure it fits snugly, but is not too tight and doesn't restrict their movement.
Bathe your dog's paws when you come in from walks to make sure there's no ice or grit stuck between their toes (and then make sure they're warm and dry afterwards). You can also protect your pup's paws during winter walks with a good pair of dog booties.
Reflective clothing will make sure you and your dog are easily visible when you go for walkies outside of daylight hours.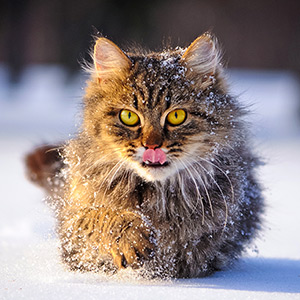 Cats
When it's really cold outside, most cats like to stay inside and snuggle up as close to the radiator as possible, but if your feline is a winter wanderer, always make sure they have access to indoors (e.g. through the cat flap). If you don't have a cat flap, it's best to keep them indoors when you leave the house, just to make sure they don't end up stuck outside as they could become extremely cold.
Cats are attracted to the taste and smell of antifreeze, but it's highly poisonous to moggies. Be vigilant, keep bottles and containers sealed and out of reach, and make sure your cat doesn't lick any off your windscreen. You can also buy antifreeze which contains the non-toxic propylene glycol as opposed to ethylene glycol.
Cats will seek out cosy hiding spots in winter, so always check sheds and garages before you close them up for the night, and knock loudly on your bonnet before starting the car, just in case the neighbour's cat has snuck under for a snooze.
Rabbits and guinea pigs

Make sure your small furries have loads of hay to snuggle up in.
Outdoor rabbits are fairly resilient creatures, but it's best to put the hutch in a sheltered spot out of the wind. A tarpaulin can also help to shield and insulate them, but if the temperature drops to an extreme level then you might want to bring them inside.
A towel, some bubble wrap or a special insulating cover can stop their water bottle from freezing over night.